For a cell to migrate, protrusion of the front and translocation of the cell body must be followed by retraction of the rear of the cell. Cell body translocation immediately follows protrusion and is independent of actin polymerization[1]. In keratocytes, the cell body 'rolls' behind the front protrusion[1]. This movement is propelled by a coordinated contraction of the actomyosin cytoskeleton, and thus depends on myosin II[2]. Myosin-mediated contraction and microtubule motors (e.g. dynein) also control the translocation of the nucleus[3],[4]. On the other hand, rear retraction requires the coordinated contraction of the actin cytoskeleton and disassembly of the adhesions at the trailing edge. Several mechanisms converge to promote adhesion disassembly: actomyosin contraction, microtubule-induced adhesion relaxation, endocytosis of adhesion receptors, and proteolytic cleavage of focal adhesion proteins[5],[6],[7],[8].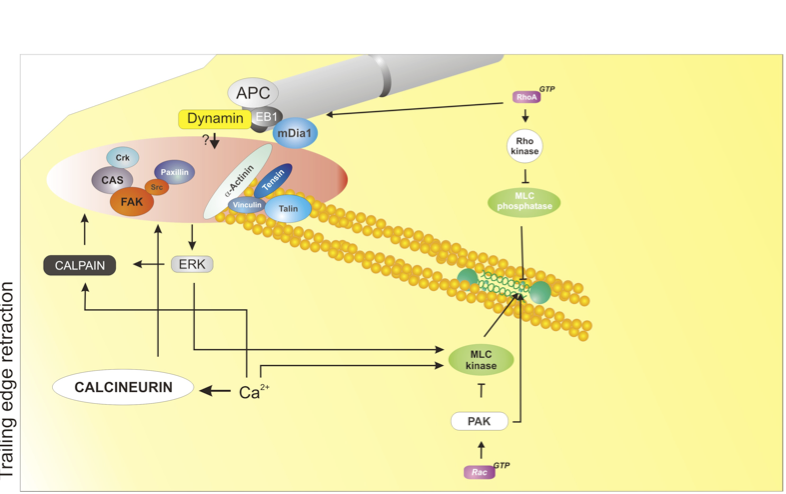 At the rear of the cell, adhesions disassemble; this process is mediated by at least four major mechanisms: 1) actomyosin contraction, controlled by RhoA - Rho-kinase - Myosin II; 2) protein dephosphorylation and inactivation, mediated by phosphatases, e.g. calcineurin; 3) proteolysis of adhesion components, mediated by calpain; 4) microtubule targeting; the identity of the disassembly signal is not known. Used with permission from Vicente-Manzanares et al., 2005 J.Cell Sci. 118,4,4917. 
click to enlarge
Retraction
Actomyosin contraction: The actomyosin cytoskeleton (mediated predominantly by myosin II) promotes retraction of the rear of migrating cells[9],[10]. The myosin IIA isoform acts downstream of the RhoA - ROCKaxis and mediates retraction and adhesion disassembly in a variety of cell lines[9],[6],[11],[12],[13],[14],[15].
Microtubule-induced adhesion relaxation: Some adhesions are repeatedly targeted by microtubules - in particular, adhesions at the trailing edge [16]. In many cases, microtubule targeting promotes adhesion disassembly[7]. Dynamin and FAK are required for adhesion disassembly[17]; but whether they mediate endocytosis only (see below) or deliver additional relaxation signal(s) is still unknown.
Endocytosis of adhesion receptors: Emerging evidence points to the endocytosis and recycling of integrins and other receptors, such as GPCRs, as a key mechanism in regulating adhesion turnover[3] and, therefore, as an important step in controlling cell migration. During neutrophil migration, endocytosis drives the internalization and recycling of α5β3 integrin[19]. More specifically, clathrin-mediated endocytosis has been shown to mediate disassembly of a specific subset of adhesions, near the nucleus, by promoting internalization and recycling of β integrins downstream of microtubules, FAK and dynamin[5], and is likely involved in adhesion disassembly during cell migration. On the other hand, integrin recycling - for example by phosphoinositide-dependent kinase-1 (PDK1) and and Rab proteins[20],[21],[22], - plays a key role in directional migration.
Calpain-dependent cleavage: The calpain family of proteases is involved in retraction of the trailing edge of migrating cells[23]. Several proteins that are present in cell-matrix adhesions have been identified as targets of these calcium-dependent enzymes. Cleavage of two of these, talin and FAK, is critical for retraction of the rear of migrating cells[8],[24].
RhoA was originally described as a serum-responsive element that mediated the formation of stress fibers in adherent cells[25]. RhoA is a key mediator of actin polymerization and reorganization in response to extracellular signals. Multiple GEFs activate RhoA; likewise, multiple GAPs target RhoA. Rho is critically regulated through sequestration in the cellular cytoplasm by RhoGDIs. RhoA can activate different effectors, including: p160ROCK/Rho-kinase, which activates myosin II through direct phosphorylation of RLC[26] and phosphorylation and inactivation of the MLC phosphatase[27], resulting in actin organization into large filament bundles[9]; mDia1, a formin that promotes actin polymerization[28],[29] and also controls microtubule dynamics[30],[31]; citron-K, a kinase that controls RLC phosphorylation and cytokinesis[32]; and others.

Rac was identified as the key mediator in the membrane ruffling response to growth factors; soon, it was revealed that Rac controls protrusion formation[33]. Many GEFs activate Rac: some notable ones are α/β-PIX, Tiam1, DOCK180 and some members of the Vav subfamily. Similarly, multiple GAPs downregulate Rac activity. Rac also activates several specific downstream effectors; for example, PAKs[34], which are serine/threonine kinases that phosphorylate a plethora of substrates implicated in cell migration, including MLCK (inhibitory)[35], RLC (activating)[36], LIMK (activating, which inhibits cofilin, regulating its actin-severing activity)[37], and stathmin (which controls microtubule stability)[38]. Perhaps the best-studied effect of Rac is the dramatic induction of actin polymerization and the formation of dendritic (branched) actin[39]. Rac activates the scaffold protein WAVE/Scar, which in turn activates the Arp2/3 complex, a potent actin nucleator ([40], see Protrusion section).

Cdc42 is a critical regulator of polarity and also drives actin polymerization. The polarity function is conserved from very simple eukaryotes, such as fission or budding yeast, to specialized mammalian cells, such as neurons or leukocytes. An early insight into its function revealed that Cdc42 activation promotes filopodia formation[41]. At this point, it remains unclear whether Cdc42 is sequestered in the cytoplasm by GDIs. Key effectors include: PAK (see above)[42]; the WASP/N-WASP proteins[43], which activate the Arp2/3 complex similar to WAVE/Scar[44]; IQGAP, through which Cdc42 controls actin and microtubules[45]; MRCK, which activates myosin II and controls nuclear repositioning during cell migration[3],[46]; and PAR proteins, in conjunction with aPKC, which also control centrosome reorientation and microtubule polarization through their effect on GSK-3β and APC[47].